THE MODERN MINT BLOG
We take great pleasure in announcing the first ever Modern Mint Artist in Residence – the wonderful photographer Andrew Yates!
What is Andrew's story?
At the age of six, with his first camera in hand (a Kodak Brownie, if you're asking…) Andrew began developing his passion for capturing the wonderful moments of our lives.
After studying fine art and design Andrew travelled, his camera always with him.
Exploring the world and developing his style, he landed back in London in the early 90's where he debuted in fashion and editorial photography, before moving into portraiture.
This technical nous and experience can be seen in some of his latest work, that we are so pleased to have available for you here at Modern Mint…
A move to Scotland ensued where his focus turned to wildlife, the countryside and its inhabitants.
Recently Andrew has made a new base for himself in Salisbury. This is where we met him when we presented the Modern Mint shop at the Christmas Market in 2015. We laughed at lot with him. His personable manner and strong spirit is reflected in the work puts into each photograph.
It is his choice to embrace the fine art Giclee printing process which seems to bring out the depth and vividness of his compositions.
We admire so much the themes he captures and his instinct for a striking moment, caught from behind the lens. It made him the stand out choice to be the first Modern Mint Artist in Residence.
We hope you will love these art works as much as we do. They are available signed, mounted and in several sizes to suit your home. Please note some are limited editions (and so well worth buying quick!)
Enjoy the wonderful countryside art work of our first Artist in Residence, Andrew Yates.
April 18 th 2016
Oct11
Need a talk for your garden club? Via Zoom because of Covid-restrictions this winter? Then I can help! It is great you are trying to keep your club going, and though Zoom is not the same as getting a group together and talking about gardening live, of the moment, right now it is the best alternative we have got. How I Do A Zoom Talk For Your Garden Club I'm very happy to do Zoom talks and have moved about 20% online so far (from end of March 2020 to the start of October 2020) – although that number is …
Oct09
Just a quick message from a garden club last night after I gave a talk for them via Zoom… Hi Darren, We would just like to thank you for a very enjoyable and fun talk this evening for our first Zoom meeting! Think we can say that everyone enjoyed it, we have already had positive feedback from some of the members, obviously the way forward at the moment! We were certainly very pleased with the turn out for the first virtual meeting! If you are a garden club speaker and want to give it a try, then please do …
Sep21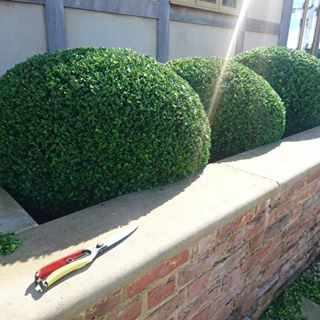 I was asked by the European Boxwood & Topiary Society to help out with answering a common question – How to sharpen your shears? So we spent a fun day making a video, that hopefully will help you make sure you have sharp, shiny blades to do your topiary pruning with. And you can find here more examples of the topiary I make with my sharp blades.