THE MODERN MINT BLOG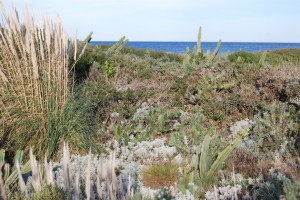 This Chelsea Fringe we are running a project called 'You Should Have Seen It Last Week…'
Taking part is the Uruguayan paisajista Amalia Robredo. She sent us two options for photos – the one above, or the one we eventually chose (that can be seen on the project page – just follow the link above!)
She wrote this about her choice of plants to photo:
"It was a difficult choice as we are in the end of autumn and there is not really much to change in the weeks to come.

I wanted the picture to reflect the place where I live, that is why it had to have the sea and it has a very specific plant community that only takes place in this coastal area, it is called "matorral espinoso psamófilo" (Our Note: 'the spiny scrub?'), it holds some endemic species and it is an endangered community due to urban development.

I wanted to have Cortaderia selloana (Pampa grass) as it is a plant that many around the world know and I thought it could be interesting to see it in its native setting.

I hope you like them."
We certainly do. The photograph is stunning and provides a wonderful contrast to the gardens and plants that are taking part in the project from the Northern Hemisphere.
To learn more about Amalia and her work you can buy here book here…
Or read this by Piet Oudolf and Noel Kingsbury – Planting: A New Perspective
May 19 th 2014
Feb10
There seems to be some underhand shenanigans going on here. Bob Flowerdew is threatening to resign. We face losing the UK's cornerstone organic garden. So please take a look at what is going on via the Facebook group…. go on! Go Now! Save Ryton Organic Gardens!
Feb06
Today we will be looking at Garden Design Trends in 2018. Just so you are in the know about what is cool and what is not cool in the 12 months ahead…. For the past like, million years I have shared my thoughts on what the gardening industry tell us the latest trends are going to be. If you are interested, you can see here the garden design trends for 2017. Or take a peek at my favourite of all the posts I have written – Alternative Garden Design Trends. This is my individual take on what the latest garden design …
Feb06
Well now, this is interesting…. UK Plans 50 Million New Trees in Northern Forest Likely? See the pitfalls? We love the idea and wholeheartedly support as much tree planting as possible. But are seriously doubtful that this is more than a sticking plaster solution to England being so vastly 'under-treed'…. or should that be 'overfelled?' Yet whether this idea happens or not, all we ask is that you please make sure you plant as many trees as you can in your garden!