THE MODERN MINT BLOG
Written a book? Think it should be published and available to search for on Garden Books at Amazon
.
Want the thrill, the validation for your efforts, that getting your name on the cover of a book gives you?
This could be the blog post that helps you.
This week we took a course through the Garden Media Guild with Jackie Bennett (whose new book The Writer's Garden: How Gardens Inspired our Best-loved Authors
has just come out.) She shared with a small group of us inspiring garden writers what you need to do to get your book published.
Not everything we learnt is laid out below (it was a day filled with information) and of course, one way of doing something will not happen the same way for anyone else – but here are the major ideas to follow if you want the chance to get your book published.
1) Research your publisher
There are quite a few out there, but not everyone will want your literary gardening fantasy or your herb garden related cookbook. Be professional and find out who publishes what you are writing.
2) What genre do you fit into?
If a bookshop doesn't know which shelf to put your book on, how will people know where they can buy it? Be clear – this is a gardening book, so you will find it here, and it will have 40,000 words and 150 photographs.
3) Who is going to buy it?
Is this for gardening newbies? Schools? Children? Know your answer authors, know your answer!
4) Who cares about your work?
Who follows you on Twitter? Who visits your blog? Where are the people who are demanding you write them a book because they are that desperate to read what you have to say? Your mum cares, we know that already. Find more people.
5) Who is the commissioning editor?
You know your publisher because you've done step 1. Now find out the person you are going to have to impress – and speak to them.
6) Get your synopsis right
Sell this to the commissioning editor – sell your idea so well that they are desperate to have your book on their list, and sell yourself so well they won't want anyone else to write it. Spend so much time and energy on your synopsis because, if the book is commissioned and you are to be published, you will have done all the hard research on the book already. Steps 1-5 above are the professional writers approach to getting published. Step 6 is the art and the passion in what you do.
7) Make sure you can deliver
You will have, at most, 6 months to write this book you have spent all this time convincing people is worth it. You will not earn enough money to live on, so you need to fit it in around your life. Make sure you have the cash to visit the places you need to visit, take the photos you need to take, and can write to the standard you need to write to.
If getting the book written causes you sleepless nights, and not because you have to work a day job but because you are blocked, try the author Steven Pressfield
and his book below 'Do The Work':
It will help.
Conclusion
What we learnt from this Garden Media Guild (and we do recommend you join them!) workshop about getting published is that the writing of the book is the easy part – you have a deadline after all, so sit down and get the work done. The hard part is getting the chance to have the strength of a publisher behind you, helping you physically make and sell your book.
And what skills do you need to get that publisher behind you?
As you are selling a synopsis to a commissioning editor who wants something easy to package and sell, it means you have to become as good at selling an idea by using a synopsis as you do at becoming a good writer.
You must also be able to fit the writing of the book into your 'normal' life. Because you aren't going to earn a fortune.
Last of all, be a fantastic marketer in order to create your own market, one that runs alongside the market a publisher can place your book into. Consequently, the work you do building a following will also make you a more attractive proposition to a publisher. Why would you turn down a writer who could sell 5000 books on their own?
All of this information was gleaned from people at the Garden Media Guild, and also the Society of Authors. We thank them for all their advice and encouragement and highly recommend you join them.
If you still crave more information about getting your book published, we recommend Seth Godin
and his post 'Advice for Authors.'
Good luck, and look forward to reading what you have published!
October 17 th 2014
Sep29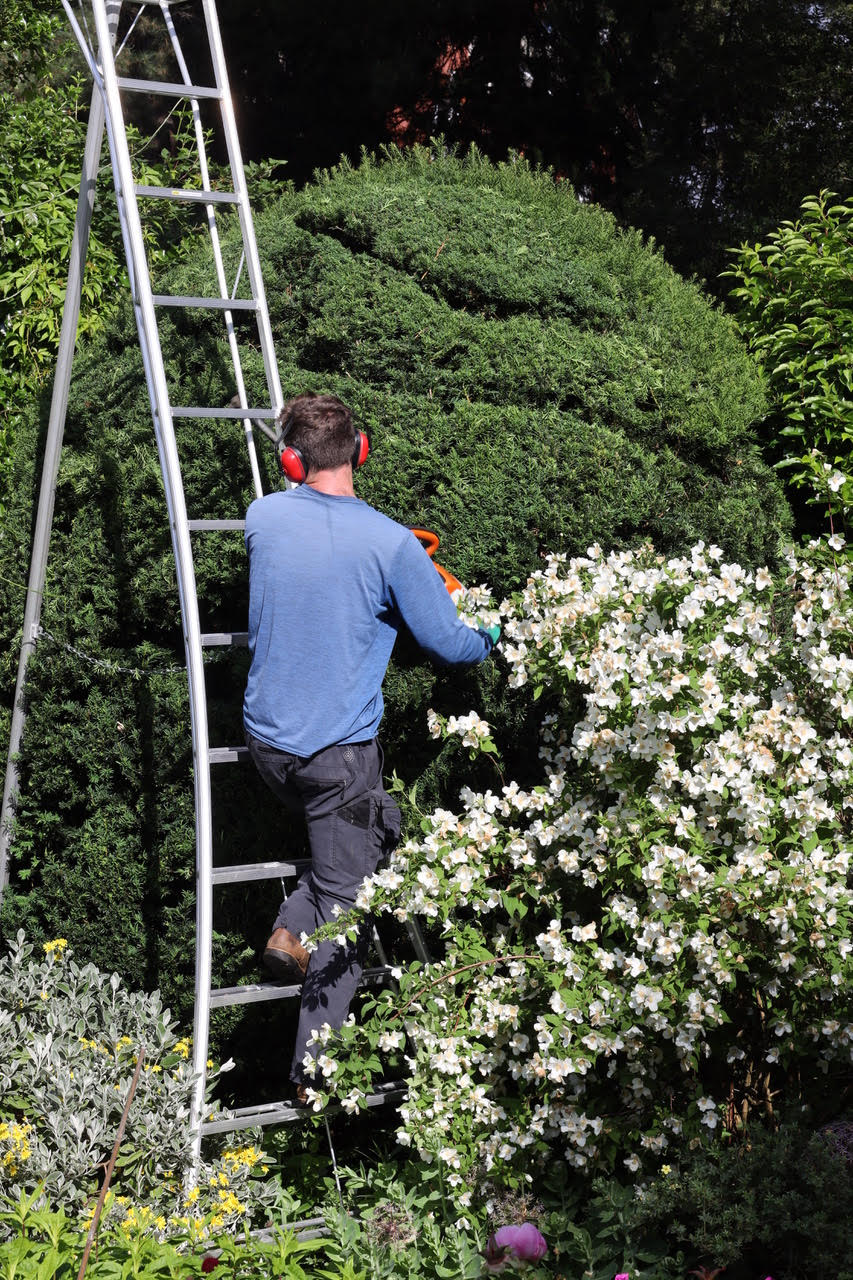 Making a new topiary out of the large, dull facade of a Taxus blob… My work was to change it up from a 'jelly drop' shape and give it texture, open it out and let the light through, and make it a sculptural feature in the background of the garden in summer… yet a major part of the garden in winter. A few more years before it becomes something special, but there was far more leaf and growth inside the plant than I thought and so it will not take too long for it to gain in character and become …
Sep27
Two weeks ago I was invited to teach topiary at the garden of Griselda Kerr, the author of The Apprehensive Gardener. I love teaching and sharing skills, but I was placed on the spot in the afternoon and asked to show how I would make a new topiary from an existing shrub. So below is a speeded-up video of me creating a cloud-pruned topiary from an old boxwood tree. I particularly love the ending when the class get involved….! See the video here. One hour was all it took, and though it needed a little tidying-up, it was made by …
Sep27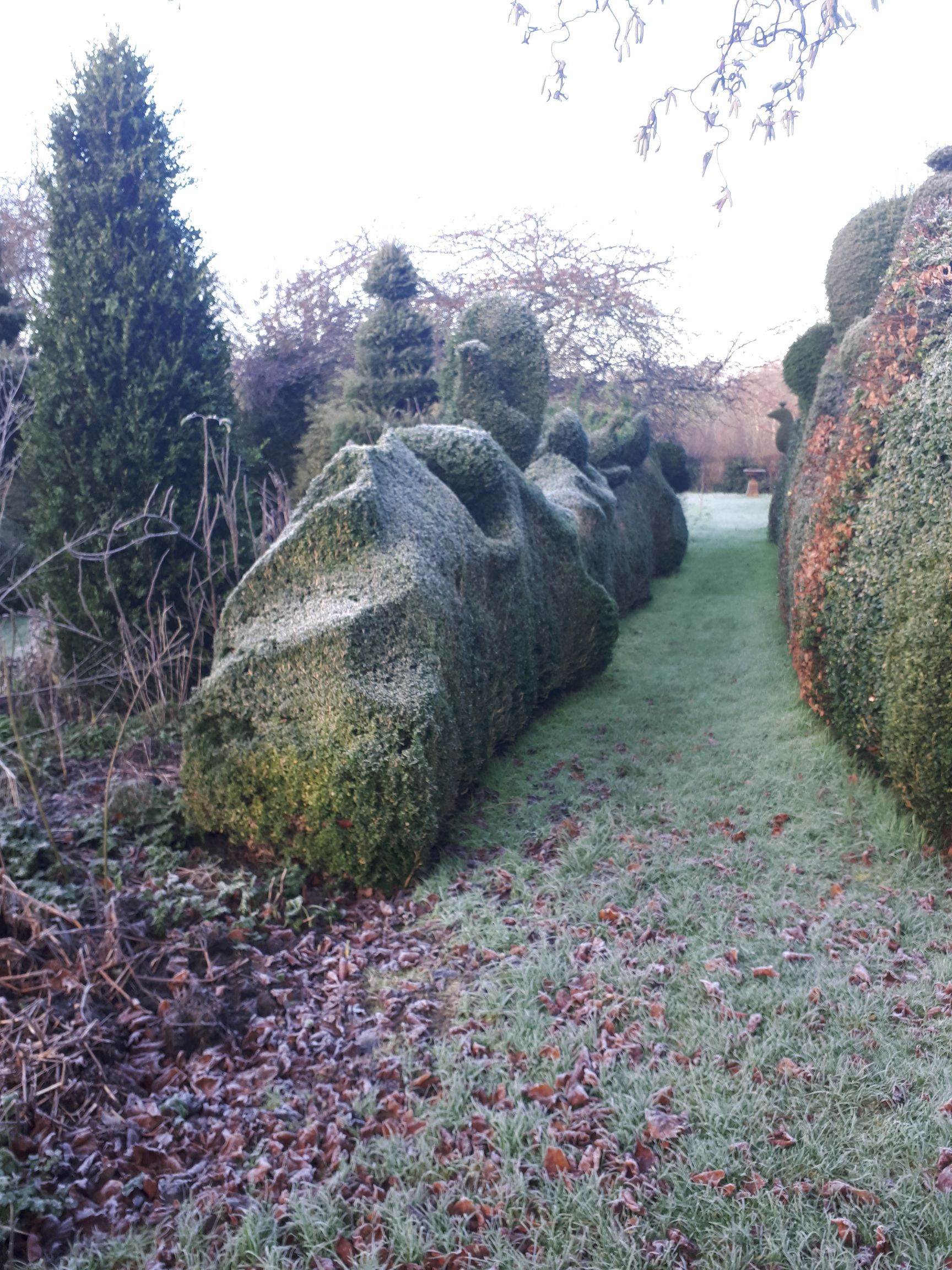 Charlotte Molesworth, my topiary mentor, and I are running our popular topiary workshop again in 2022. You can email me for details – or go here for information, your ticket and to find out about dates. Book A Spot On A Topiary Workshop, September 2022