THE MODERN MINT BLOG
I wrote a manifesto on Modern Topiary, to remind myself of the ideas I am thinking through when composing a new shape.
You can view the seven rules and a few photos of my topiary work on the European Boxwood and Topiary Society website.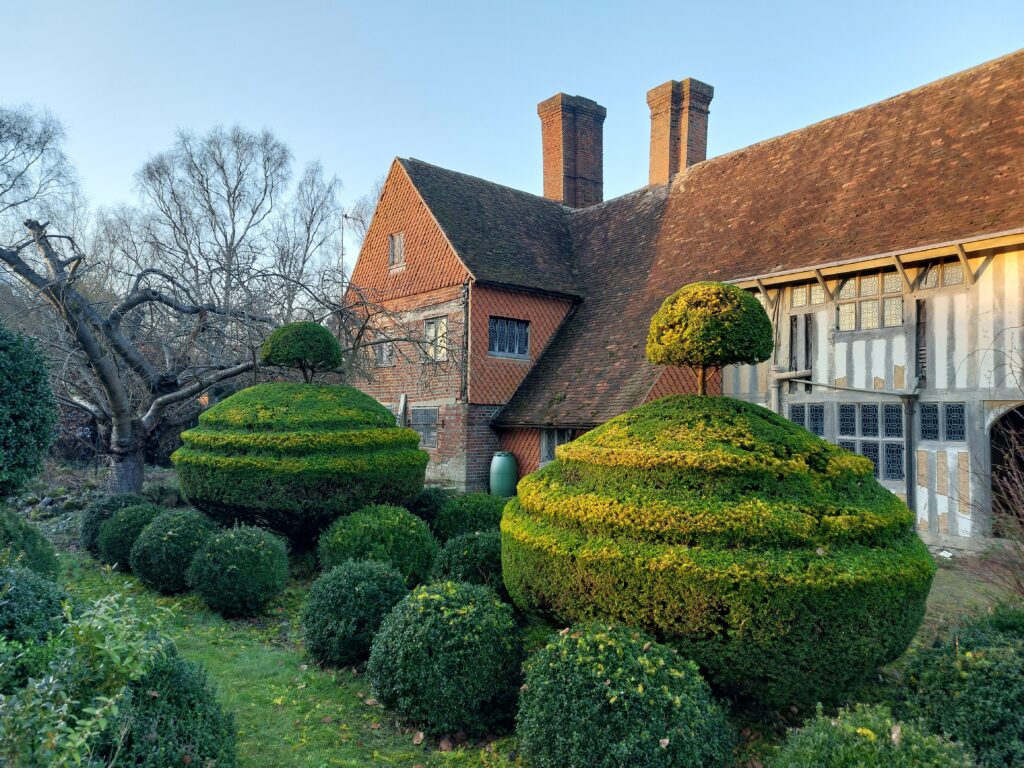 The photo above is two mop-heads with rings run through them, to show off the different types of green you get in a golden yew.
But on the EBTS website you will see a couple more photos, one of which is the beginning of an Olaf from the Disney film Frozen… he currently looks quite frightening because his arms haven't grown, nor has his 'carrot' nose, so I have had to pull up some leaf material to begin the shape…
… and this has given him a sort of terrifying open mouth. More like Jack Skellington at Halloween than Olaf!
Here you can read the Manifesto and see the photos.
And if you want to join me on a course, to learn a little more first hand knowledge of how to clip and shape topiary plants, I will be teaching at Waltham Place in September 2023.
Here you can book your tickets to Waltham Place topiary course.
And below is Waltham Place… isn't it marvellous?
To learn more about Waltham Place, do watch this free video about the philosophy behind a garden transformed into a wilderness…
March 14 th 2023
Nov21
In 2022 I did a free video for Garden Masterclass, the Annie Guilfoyle and Noel Kingsley run website that is a treasure trove of the great and good of the horticultural world – well worth looking through all the wonderful talks they have available, like meadow-maker James Hitchmough or nurserywoman Rosy Hardy. They are certainly inspirational! Perfect for watching and dreaming up new ideas during the winter months… As a follow-up to my Topiary Provocations video (which you can see on Youtube for free) I was asked to do a video for their Masterclass series on how to make topiary. …
Jun19
The lovely garden of my mentor Charlotte Molesworth is featured here in the Financial Times in the last week or so… She has been interviewed lots of times but I thought this was a particularly great piece, with some photos done at unusual angles and different parts… so well worth a read. For more on topiary by Charlotte Molesworth…
Apr30
I will be teaching a number of topiary workshops in 2023. Listed below with links to see all the details about how to book: Northern School of Gardening, near Harrogate – April 27th 2023 Madoo Conservancy, New York – May 12th 2023 Madoo Conservancy, New York – May 13th 2023 Gunnebo House, Gothenburg – June 29th 2023 Waltham Place, near Maidenhead – September 8th 2023 WFGA, Kent – September 9th 2023 I hope to add more through the year, but please do email me if you want to be added to a reminder list when dates are announced. And as …