THE MODERN MINT BLOG
January 2017 and already the gym is filling up, people shopping the sales are discussing juices instead of cakes and Veganuary has entered the British lexicon.
Healthy eating is on the mind and here at Modern Mint we want to help inspire you to make the most of the food you eat.
Best Cookbooks for Healthy Eating
On our shelves we keep things simple, with just these 5 books for inspiration.
Skye Gyngell – A Year in My Kitchen
Sarah Raven – Sarah Raven's Garden Cookbook
Michael Pollan – Cooked
Diana Henry – Simple
Tracey Lawson – A Year in the Village of Eternity
Do you have any of these on your book shelf?
Problems with these Book Choices
You might be thinking – what is Michael Pollan's 'Cooked' doing in this list? Hardly a recipe book! Quite right you are too. But what we love about each of these books, why we think they go together and give so much inspiration, is that they all make us think about the food we eat.
Here Is A Quote from 'Cooked':
"…the opportunity to produce something material and useful, something that contributes directly to the support of your own body (and that of your family and friends,) is a gratifying way to spend a little time – or a lot…"
Each author, whether providing us with a straightforward recipe or not, is asking us to take time with our food, to be a creator of something delicious. This is where the value lies in these book choices – that if you want to be healthier, then you need to know:
Where the food you eat comes from
How it is best used, in combination with other flavours and produce
Which season you will find this food at its best
Each writer, in their own way, is talking about food systems, local economies and producers, the nutrient value in each mouthful and the effect that has on your body.
They are talking about food from the landscape around us, not something ubiquitous but a cuisine that is idiosyncratic and rooted in the culture.
By promoting seasonal food, the basic guidelines will be in place for eating well, eating healthily – you will most likely be eating more vegetables, fruit and herbs, while they are at their most nutritious.
Cooking them simply using a pot, or an oven or a pan, you cannot fail to eat in a healthy way. Do this consistently, for one month, or three, or 6 and you will see the difference.
You will also notice how bad – how greasy, or how 'dead' – in comparison to your own cooking that some food is when you go out to a restaurant or a pub.
Freshness and seasonality, coveted by the authors of the cookbooks above, give you a better understanding of the food you eat.
To Eat This Way is Healthy
At home, we base our diet around a weekly vegetable box. It is organically grown. We cook with sea salt, some vinegars, some butter and olive oil, then add herbs, or grains and legumes, or cheese or some occasional fish to keep each meal interesting.
The five cookbooks listed above inspired us to eat this way, to think about our food and work with the seasons.
For healthy eating this January, we suggest reading them!
Buy These Healthy, Thoughtful Cookbooks Now
Skye Gyngell – A Year in My Kitchen
Sarah Raven – Sarah Raven's Garden Cookbook
Michael Pollan – Cooked
Diana Henry – Simple
Tracey Lawson – A Year in the Village of Eternity
January 12 th 2017
Feb22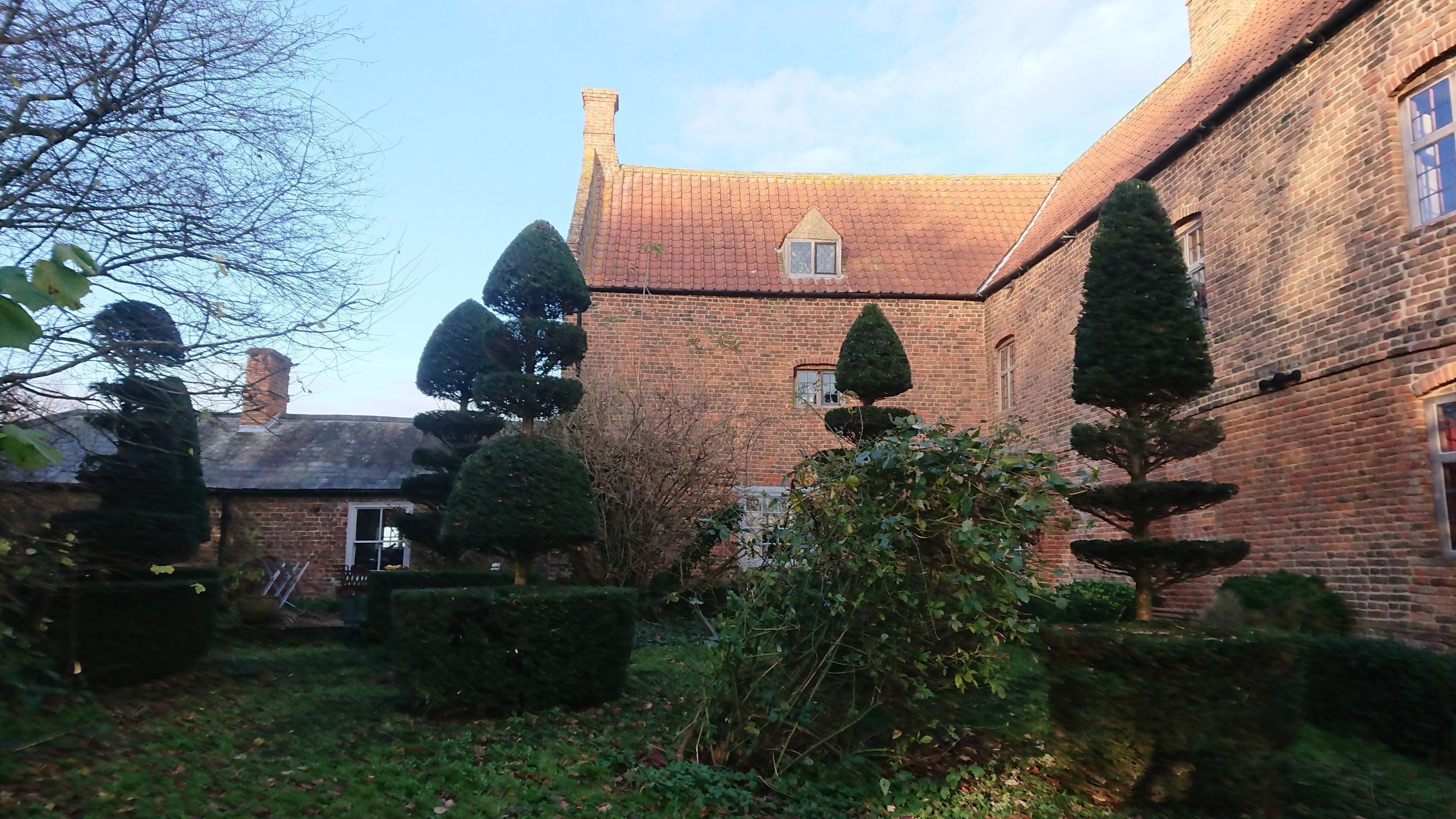 Guanock House needs a trainee topiary artist! Some of you may know it as the first home and garden of designer Arne Maynard, but is now owned and maintained by Michael Coleman and his wife Michelle. They offer meditation workshops and retreats there and it is as beautiful a house and garden as you could wish to visit. They called me in last Autumn to help shape up some of the topiary as it was all getting out of hand, but what it really needs is someone with a steady hand and lots of patience to take over the clipping …
Feb09
Here are some photos of work I have been doing at the garden of Charlotte Molesworth in Kent. Snow and ice brings out the depth of the different planes and angles carved into the boxwood. A garden has to look beautiful in winter – and topiary (green architecture)  helps do that! For more topiary pictures, click here.
Feb01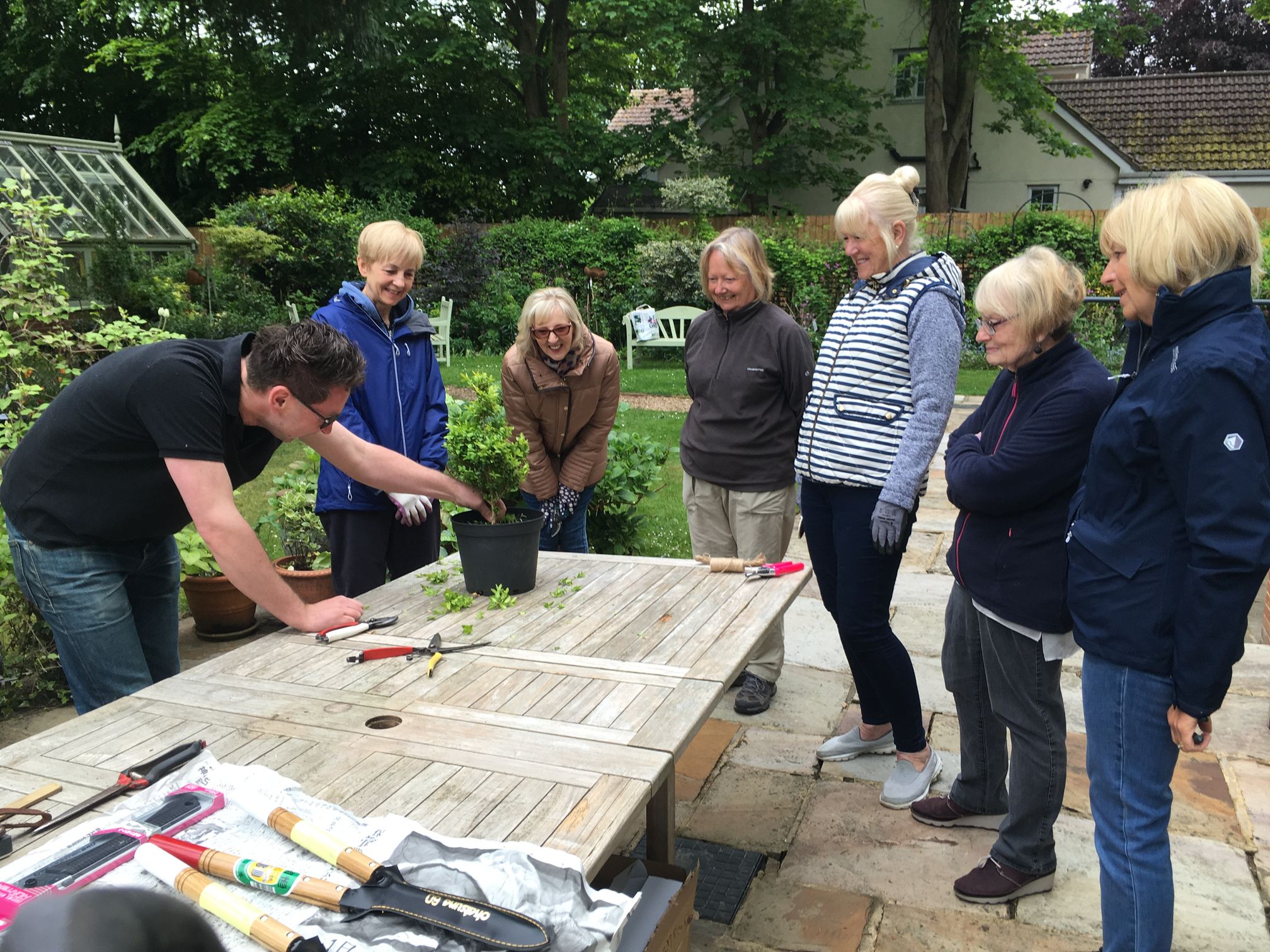 I am an experienced teacher of topiary and pruning, running workshops in the topiary garden of Charlotte Molesworth in Kent, as well as for The English Gardening School and The European Boxwood And Topiary Society. So if you are a keen gardener, a garden club, a group of friends who want to know more or even an absolute beginner who has been bitten by the gardening bug, then do contact me about what you might like to learn. What a laugh we are having in this workshop session I ran for a group of friends in Essex… Many people employ …