THE MODERN MINT BLOG
For those of you ahead of the bell curve, working on the edges of contemporary garden design, then you will of course be building a rain garden – to slow down, filter, store and re-use rainwater in the garden.
To help you, here are 10 plants for rain gardens….
Rudbeckia
Persicaria
Eupatorium
Monarda
Aster
Hosta
Iris
Miscanthus
Carex
Cornus
What do you notice about these plants? They are all good, tough garden plants whether you have a rain garden or not. Use them!
As a bonus – Crocosmia, Bergenia, Hellebore and Sanguisorba will not have a problem being flooded occasionally either.
As a double bonus – check out the flowers in the daisy family (Asteraceae) – we have already suggested a few in the list above (Rudbeckia, Aster and Eupatorium, if you're interested) but Helenium and Inula could also be used.
Want a bulb to add? Camassia, that amazing blue flower, is our choice.
Try these to get you started planting up your rain garden – they will make the garden look amazing!
For mor help with your rain garden, try these books:
May 8 th 2016
Sep21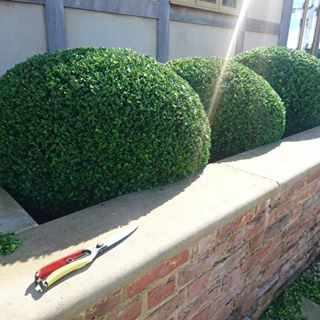 I was asked by the European Boxwood & Topiary Society to help out with answering a common question – How to sharpen your shears? So we spent a fun day making a video, that hopefully will help you make sure you have sharp, shiny blades to do your topiary pruning with. And you can find here more examples of the topiary I make with my sharp blades.
Aug16
You can get a ticket for this new talk I'm giving at the European Boxwood And Topiary Society here – TALK TICKETS It is on the 25th August at 6pm. It should be great fun and I'm very excited to be sharing some recent thoughts about topiary with people – and how it might work in a modern garden.
Jun14
If you have a subscription, you can check out an article about bespoke ideas for your garden in the Telegraph. There are some great crafts people there, so check it out. Click Here To See The Article About my Topiary Work In The Telegraph