THE MODERN MINT BLOG
Today we celebrate 1 year since Modern Mint registered as a business – Happy Anniversary!
We have come a long way in that time. The original website, when it went live, totalled a (whopping) four pages. Now we look back in amazement – we have the shop, the garden design work, the Chelsea Fringe projects, the organic topiary, the Ten Meadows project, the garden talks… and this, our 200th blog post.
A journey of a thousand miles begins with a single step…
… from little acorns do mighty oaks grow.
These are well-known quotes, so over-used it is hard to notice how important they are. Which is true of a lot in life – the common becomes easy to forget or dismiss. We are using this first anniversary to take stock, see where we can improve for the next year.
First of all will be some changes to the website, to make it easier to navigate and find what you are looking for, as well as being made easier for you to keep up to date with new posts. We are trying to get more posts written by other garden writers too, so you can call on their experience and knowledge.
Second of all will be the new suppliers to the shop. We have been seeking answers to questions of sustainability and the reduction of waste – we still seek answers but are gradually learning more about what is a product that treads lightly on the earth, and what is a product that doesn't. We had searched ourselves for these products and had struggled to find them all in one place, or found the people who made them had no platform from which to speak. So the Modern Mint shop became our solution to this, a place for us to share with you the things we felt were valuable.
Thirdly will be a change in our design practise. This follows on the lead from the shop, in trying to reduce waste and make something more beautiful, long-lasting and worthwhile. We are insisting on a major reduction in chemicals by our clients, as well as trying to talk them away from buying and planting mature trees. It can happen (and must happen) – it is purely about educating people on the choices they can make.
Rainwater harvesting, compost making and vegetable growing are all being drawn into designs as standard. It sounds silly, but it does not always happen – but we are realising our role is to play 'garden evangelist' rather than 'garden designer' (hats off to Michael McCoy for talking so astutely about this…)
If we can encourage people to get to know their garden, to engage with it and enjoy it, we may be able to make a huge difference to the way we live – to be more grateful and protective of the landscape we have, the food and water and fragrance it provides, the spaces we currently have to work and rest and play in.
"We've always counted on a media arbiter to raise the bar of our culture."
Seth Godin – Is Google Making the Web Stupid?
We hope Modern Mint, in conjunction with the wonderful suppliers we work with, writers who write for us, and colleagues and peer groups we learn from, can be the resource that helps you garden in a modern way. It is why we step forward with a smile on our face, on this journey towards a second anniversary.
February 14 th 2015
Aug19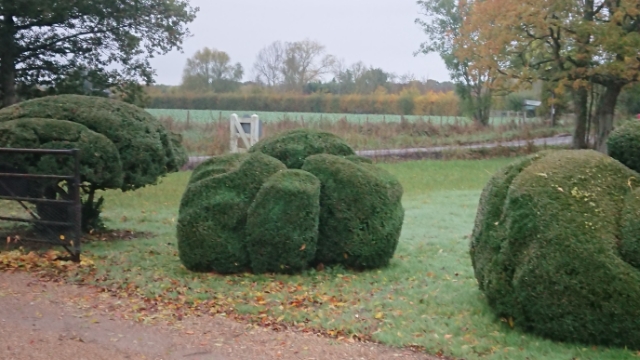 Topiary Composition and design is a major part of my work – which is why I have created an online seminar for keen gardeners and creatives to learn how to compose a piece of topiary. There are several dates available so please head here to buy a ticket. The seminar lasts two hours (including q and a) and will explore the process needed to look at a shrub or hedge and work out what you can design from it. These principles have been learnt the hard way – through mentoring, experimenting and years of practise. Hopefully, it will help you shortcut …
Jun10
Brought By Bike is an excellent website I found last month, where businesses offer their services by (of course) bicycle. Modern Mint and my topiary work is now live on the site offering my topiary services, via bike, to the following two postcodes – CM1 CM2 Now I can imagine I will need to borrow a ladder should anyone have a larger shrub, but most town gardens in the Chelmsford area have a need not just for privacy but to let light into the house… so a balance must be struck when shaping hedges and shrubs to cover both needs. …
May10
Transforming Topiary – a video made for the European Boxwood And Topiary Society by Charlotte Molesworth and I, in her garden. We take a dog topiary and work out how to update it, turning it into a bird. Worth a watch I think, and hopefully useful to you! You can see more of my clipping on the topiary page. Or read my Spring 2021 Topiary Provocation here.