THE MODERN MINT BLOG
Topiary workshop? For us?
For a garden club who wants a topiary or pruning workshop, as a change from a talk! Read on below for all the details about how you can book a workshop that gives you the skills you need to prune the plants in your garden with confidence…
Darren Lerigo – Pruning Workshop For Your Group
Since 2014 I have given nearly 400 talks and workshops, regularly visiting:
Garden Clubs
WI's
U3A's
Lunch Clubs
Beekeeping Societies
Probus Groups

 

Flower Festivals
County Shows and more to give talks on gardening
"I don't think I've ever had so many positive comments about a speaker, thank you for making my job a success." Speaker Finder, Garden Club In Essex
I am a practical, hands-on gardener who specialises in topiary. My topiary practise takes me all over the country clipping plants from late spring to autumn.
You can view some of my work here in The Guardian.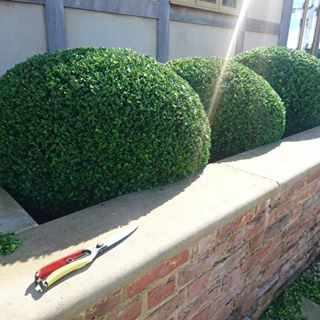 "Thank you for a truly inspiring day, and trusting us with your precious plants. I hope to see you again in the future!" Workshop Participant, In Kent
Workshop On Topiary & Pruning
I can offer you a workshop on topiary and pruning on all the usual plants in your garden:
Fruit Trees
Boxwood
Yew
Roses
Wisteria
Flowering Shrubs
How Does It Work?
You choose a location, a garden belonging to a member of your group. The key is that they won't mind people clipping in the garden. 
Ideal gardens include hedges and a range of shrubs and fruit trees.
We arrange a time to start. The workshop will last 2 hours (I have found this to be about the right length of time for a group.)
You gather up to 10 people to arrive with their shears and secateurs.
What You Learn On The Pruning Workshop
The value of good tools, kept clean
How to sharpen the tools
Technique for topiary
The best plants to use, growing them, when to clip them and their pros and cons for use as topiary (this is done with lots of interaction and I am happy to answer questions as I go!)
We then move onto the practical side, pruning in the chosen garden. I will offer advice and help as we work
Style and an instinct for design will be encouraged
Depending on the plants available to clip, we may get a chance to focus on different plants and styles during the workshop.
We finish with a round-up of what we have learnt, answering any questions and discussing what we found worked and what may have been difficult. 
This part is best done with refreshments if possible!
Fee For Your Group
For 1 session I charge £200, plus travel where appropriate.
For 2 sessions on the same day the charge is £300, plus travel where appropriate.
The same garden does not have to be used, I am happy to move somewhere nearby for the second session.
I hope to make the cost to you as good value as possible, while not having too large a group where the learning may get lost.
A two session booking will cover 20 people in your group, costing them just £7.50 per hour each.
Payment can be made on the day in the following ways:
BACS – details can be provided and is my preferred method of payment
Cheque – made payable to Modern Mint
Cash
"Everyone loved your talk, your sense of humour hit the spot, besides being informative and practical. Hopefully I can get you back!" Speaker Finder, U3A

FAQ'S About A Topiary & Pruning Workshop
Do you bring any of the tools you have on your website?
I do. People can try them and even buy if they wish.
Do you travel anywhere
Again, I do! I try my best to make the cost as reasonable as possible, so please let me know where you are based so I can work out how much it will cost to get to you from Chelmsford, Essex.
Can I tell other people about your talks and workshops?
Yes please, that would be incredibly kind. Thank you!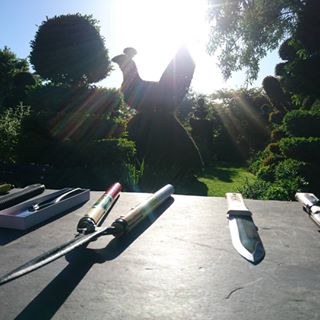 Contact Me To Discuss A Workshop For Your Group
There are several ways to contact me:
T: 01245 357654
M: 077686 39388
I may be in a garden somewhere clipping, so if you phone and I don't pick up just leave a message and I will get back to you.
Look forward to speaking soon, please do get in touch with me if you think a topiary and pruning workshop would be useful to you.
Darren
March 9 th 2020
May03
Over the last two years I have been involved with a couple of projects that have ended up being recorded, then placed on Youtube or Instagram. I'm hoping they will be useful to you, so I have decided this morning to pop them together in one handy blog post so that you can bookmark the page and revisit when you need some inspiration for your topiary. See below then, a few videos about topiary I have recently been involved with… Garden Masterclass – Provocations of a Modern Topiarist Transforming Topiary Topiary Teacher Put On The Spot https://www.instagram.com/p/CTj-EfOKRL6/ In the above …
May03
Mark Zlotsky is an artist based in New York, and today I just wanted to share his project 'Topiary Tango'. In his introduction to the project he talks of topiary being a forgiving art, which I love and is soooooo true…..! For proof, just take a look at some projects I have made with a sharp pair of shears, a hedgetrimmer and a pruning saw. Do check out Mark Zlotsky's project, because although his interest began by looking at topiary through the prism of architecture and the relationship of one building to another, he touches directly onto a way of …
Apr27
Gardenista, the online magazine about gardens and design, have interviewed me about topiary. The article is called 'Rethinking Topiary: A Garden Tradition Loosened Up' and was published this morning. Written by the excellent garden writer Clare Coulson, I share some thoughts on using deciduous plants, how to clip (name-dropping Anne Lamott and her book on writing at one stage… oh, how I wander off subject sometimes!) and how to improve topiary by what you plant around it. Do take a look at the article in Gardenista. Or for more about my topiary work, check out the topiary page.