THE MODERN MINT BLOG
New Talk at the Quay Theatre, Sudbury
Darren will be presenting a brand new talk on March 12th, 2017 at the beautiful Quay Theatre in Sudbury.
Visit the Quay's website for details!
The theatre itself is just past the cricket ground, next to the river, and not only provides Suffolk with a range of theatre, music, comedy and talks (like Darren's new one!) but every Friday and Saturday night it opens its top floor to Carl Shillingford.
Carl is a Michelin trained chef and something of a Sudbury secret. He forages and prepares a range of 'wild' foods, creating his own recipes, before serving a small number of covers each evening.
It feels like a strange business model, because where do you go from there? Neither the restaurant nor the kitchen are big enough to expand into, so each week Shillingford's can only do the same work. We mentioned it is a strange business model, but actually it is just different – you are there to do good work, put your name on it and take responsibility for it, thrill people every week. You earn enough money and you get to do it again.
It is almost the Anti-Trump way of working – growth is not the point, doing something amazing is.
Considering the waiting list is months long for a table – Shillingfords at the Quay Theatre are doing something right!
We met Carl briefly at an event we did about 18 months ago, where he demonstrated some of the food he cooks (this was foraged mushrooms, yummy and divine!) and when we popped into the Quay to sign some paperwork ready for our talk, we took a brief look upstairs at the restaurant.
It looked fab, tucked away on the top floor. On the menu board were a choice of 3 starters, 3 mains and 3 desserts. One of the desserts was a local, Suffolk cheese board. How fresh and good does that sound? All the dishes were reasonably priced, like £8 or £10….
They currently have 126 reviews on Trip Advisor. 123 of these reviews are excellent, 3 reviews are very good.
New Talk at the Quay, Sudbury
As we mentioned, March 12th we will be presenting our new talk at the Quay Theatre in Sudbury. We think the place is beautiful and offers lots to try out – whether food, a show, or just sitting by the river – so do take a closer look on their website and plan your visit.
January 25 th 2017
Sep21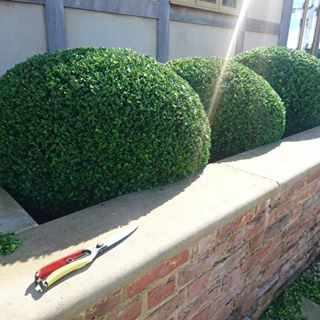 I was asked by the European Boxwood & Topiary Society to help out with answering a common question – How to sharpen your shears? So we spent a fun day making a video, that hopefully will help you make sure you have sharp, shiny blades to do your topiary pruning with. And you can find here more examples of the topiary I make with my sharp blades.
Aug16
You can get a ticket for this new talk I'm giving at the European Boxwood And Topiary Society here – TALK TICKETS It is on the 25th August at 6pm. It should be great fun and I'm very excited to be sharing some recent thoughts about topiary with people – and how it might work in a modern garden.
Jun14
If you have a subscription, you can check out an article about bespoke ideas for your garden in the Telegraph. There are some great crafts people there, so check it out. Click Here To See The Article About my Topiary Work In The Telegraph