THE MODERN MINT BLOG
Modern Mint are ABSOLUTELY THRILLED to announce the new charity we will be supporting in 2016 –
Pets As Therapy.
Pets as Therapy are a fabulous charity using pets to change lives. We first came across them last year during a garden talk we were doing. Whilst sheltering from the rain we got to meet and chat with the charities Chair of the Board Anne Clilverd and her Pets as Therapy dog Cesc, a beautiful and calm whippet.
(Cesc has the softest fur coat you will ever come across, should you meet him and Anne at a Pets as Therapy event. Check here to find out where the charity will be next!)
Pets as Therapy has been running for 33 years and offers something quite unique – animals that help humans. Volunteers take their pets on therapeutic visits to a range of venues across the UK – hospitals, hospices, nursing homes, care homes and schools – where the pets can provide companionship, friendship, confidence and enjoyment to the people who need it. Pets as Therapy is about improving lives.  
One of Pets as Therapies big projects is called Read 2 Dogs. It is a way to encourage children to gain confidence, reduce stress and become less self-conscious when reading to others in a group. If young people lack confidence, perhaps because they have difficulty with reading, the Pets as Therapy dog provides a focal point that relieves them of this pressure.
Dogs, as we all know, are non-judgemental.
A volunteer and their Pets as Therapy dog will go into a school classroom and introduce who they are and a little about what they enjoy, before telling the class how much the dog enjoys hearing stories. The children, who sit close to the dog, are encouraged to read the chosen story out loud and explain any difficult words. At the end of the session the children have the opportunity to stroke the dog.
Anne told us:
My volunteer work has now extended to our Read2dogs scheme and Cesc and I listen to Primary school children with their reading.  The teachers have been delighted with the difference this makes to the children's reading and behavior.  I am privileged to see every week the difference PAT dogs make to peoples lives.
Pets as Therapy also do amazing work with people suffering from debilitating mental and physical health conditions, including dementia and autism.
It really is a charity with people at its heart.
What can you do for Pets as Therapy?
You can volunteer your time. Find out if you and your dog or cat can become part of the Pets as Therapy team.
You can donate or shop to help raise vital funds.
Or you can learn more about the work of a Pets as Therapy dog by reading the tale of Doug The Pug – Doug the Pug: A Working Dog's Tale.
Modern Mint are proud to be supporting Pets as Therapy through 2016. Will you?
February 11 th 2016
Feb22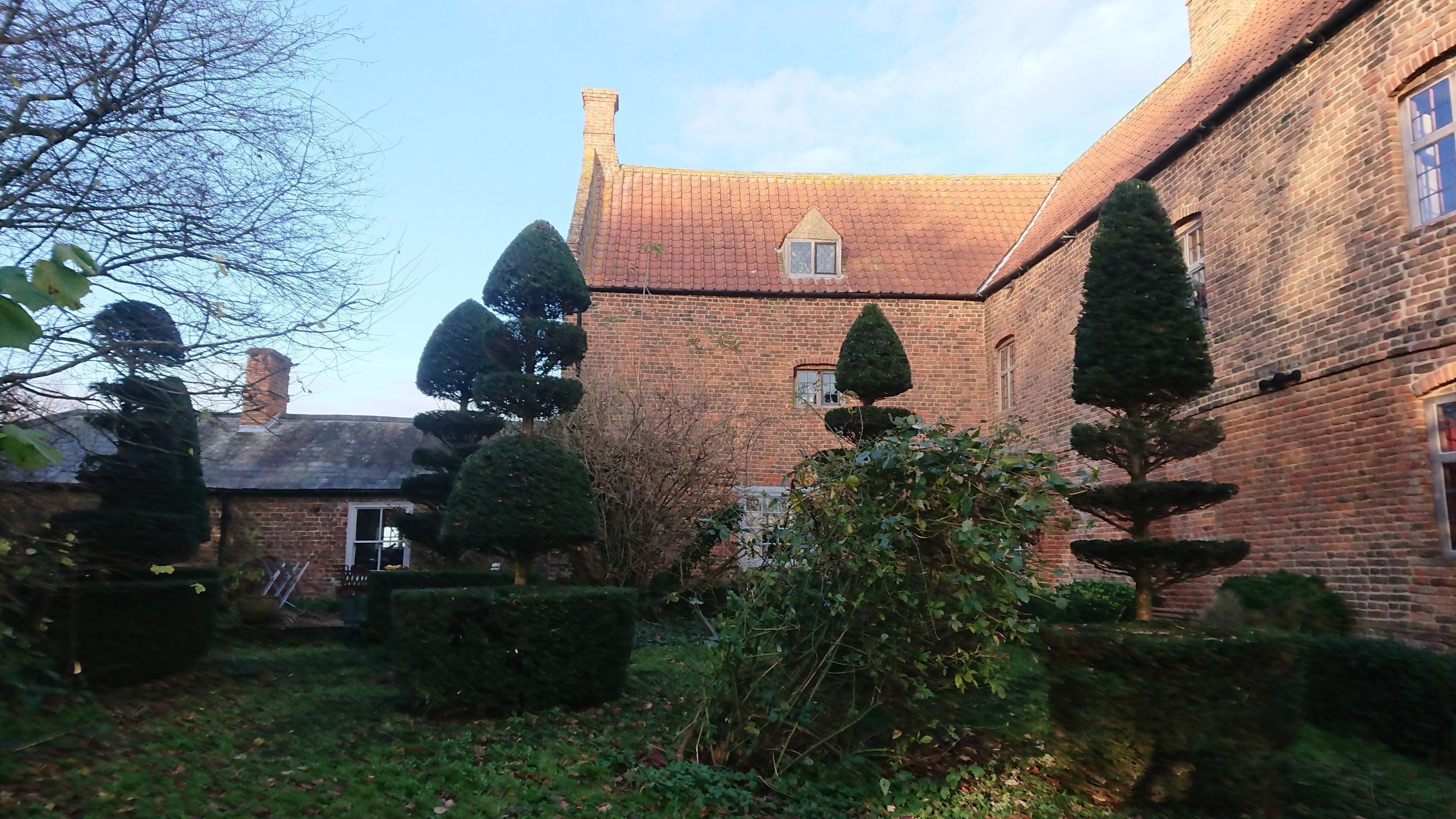 Guanock House needs a trainee topiary artist! Some of you may know it as the first home and garden of designer Arne Maynard, but is now owned and maintained by Michael Coleman and his wife Michelle. They offer meditation workshops and retreats there and it is as beautiful a house and garden as you could wish to visit. They called me in last Autumn to help shape up some of the topiary as it was all getting out of hand, but what it really needs is someone with a steady hand and lots of patience to take over the clipping …
Feb09
Here are some photos of work I have been doing at the garden of Charlotte Molesworth in Kent. Snow and ice brings out the depth of the different planes and angles carved into the boxwood. A garden has to look beautiful in winter – and topiary (green architecture)  helps do that! For more topiary pictures, click here.
Feb01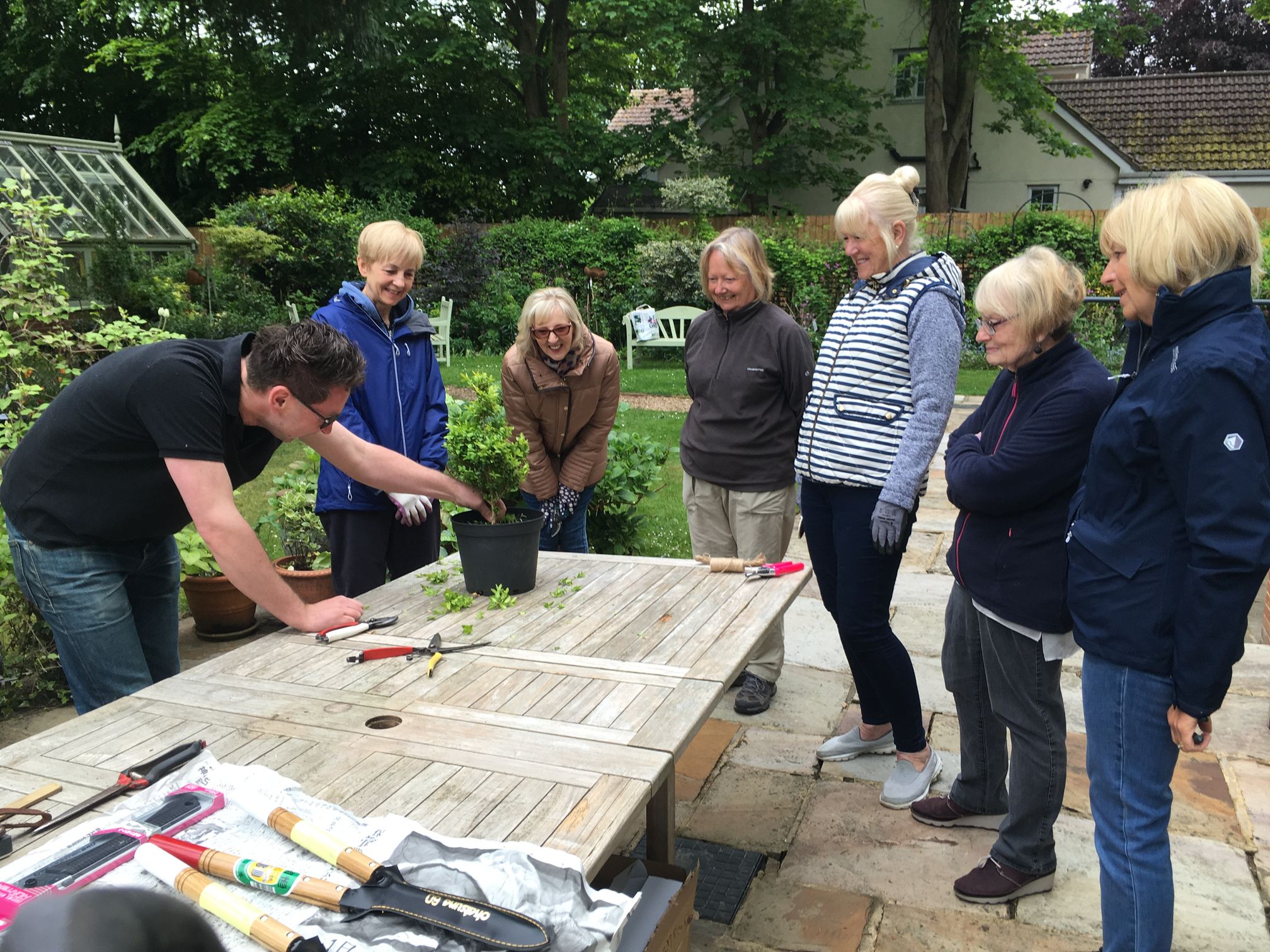 I am an experienced teacher of topiary and pruning, running workshops in the topiary garden of Charlotte Molesworth in Kent, as well as for The English Gardening School and The European Boxwood And Topiary Society. So if you are a keen gardener, a garden club, a group of friends who want to know more or even an absolute beginner who has been bitten by the gardening bug, then do contact me about what you might like to learn. What a laugh we are having in this workshop session I ran for a group of friends in Essex… Many people employ …