THE MODERN MINT BLOG
The main issue with gardening in rented accomodation is time – you may only be there 12 months before moving on, so how can you enjoy your garden when the likelihood is you won't see the fruits of your labours?
With unlimited resources (meaning cash) you could have an instant garden, but if you are keen enough to actually garden you probably want to see everything evolve. You could try your hand at guerrilla gardening, which is a brilliant solution for keen gardeners who have rented accommodation without much space.
Time poor gardening solutions lead us to think of growing annuals as a way to use your short-term garden. This is fine if you arrive in Autumn and can sow hardy annuals like sweetpeas, or in Spring when the growing season is kicking off and your carrots can be sown, but probably not useful if you arrive in late June and want a bit of colour by your first barbeque in July.
Annuals are a solution if you move at the right time then.
What about bringing with you productive plants? We imagine a solution for moving into rented accommodation is to have pots of fruit trees and fruit bushes. You can plant them out and give them plenty of water, then dig them up in the cooler months and move them with you.
Figs would be happy to stay in a pot. You could then move it around to make sure it gets the most amount of sun. Gooseberries and currants could all move home with you and be productive straight away. Container gardening is not low-maintenance but you would get something back quickly for the time you invest.
If you do bring with you plants in pots, instead of fruit have a garden of pruned shrubs – clipped box balls and yew blobs will give an instant effect, and it is something for you to do in the garden when they need cutting again.
Plants to stay clear of would be those that hate disturbance – peonies, asparagus – or those that put energy into their roots at the start, before making flowering growth above ground (Japanese anemones.)
Maybe short-lived perennials like Verbena bonariensis are the answer?
You could use the garden as an experiment in gardening with nature. Instead of putting your stamp on it, allow it to grow how it wants to – we would guess most rented accommodation is put down to lawn with hedges around the sides, so why not let the lawn grow and see what comes up? You might be surprised…
Renting accommodation on a 12 month basis and gardening are not compatible, the solutions we've offered above are a bit dire really… yet renting the land is all we ever do – it may say on a piece of paper we 'own' it, but the land will be there long after we have gone.
So our suggestion is this: if you are gardening in rented accommodation, go for it and use it as if this garden is yours forever. You will enjoy it more, learn more, get to scratch your gardening itch…
A movement to help gardeners who rent houses could look like this:
A landlord registers their garden as 'For Gardeners'. This becomes attractive to people in the area looking for a place to live. They move in and get to work the garden for 12 months. They move out and are replaced by the next keen plantaholic who needs a place to live.
The person who moves out looks on the landlord register and finds a garden in another area, where their job is now taking them. Taking their tools they go and dig this new spot, building on the work done by the previous occupant.
In this way, we could turn lots of gardens up and down the country that are just 'laid to lawn' into productive, beautiful spaces.
This could be the best way to help people who are gardening in rented accommodation?
Don't forget to check out the gardening books we recommend in our bookshop…!
July 24 th 2014
Sep29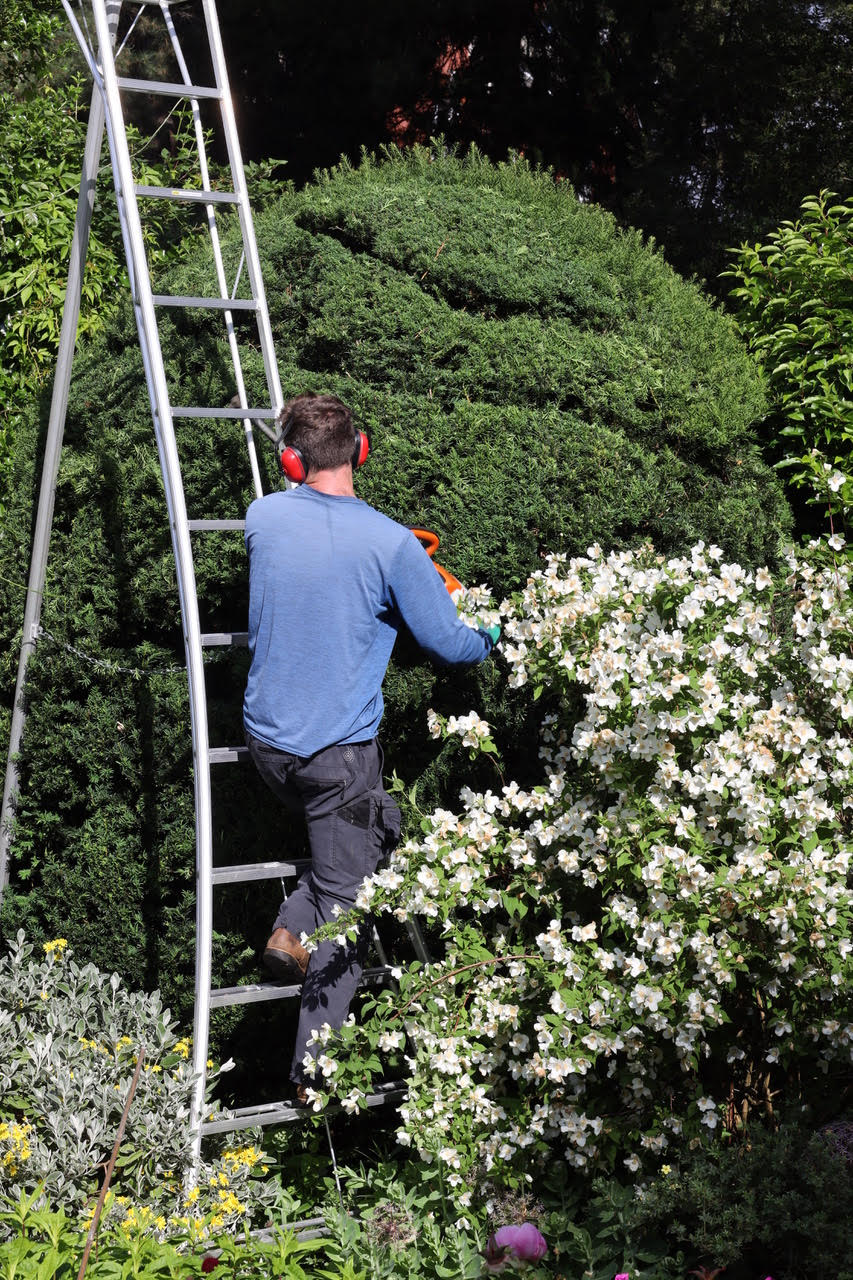 Making a new topiary out of the large, dull facade of a Taxus blob… My work was to change it up from a 'jelly drop' shape and give it texture, open it out and let the light through, and make it a sculptural feature in the background of the garden in summer… yet a major part of the garden in winter. A few more years before it becomes something special, but there was far more leaf and growth inside the plant than I thought and so it will not take too long for it to gain in character and become …
Sep27
Two weeks ago I was invited to teach topiary at the garden of Griselda Kerr, the author of The Apprehensive Gardener. I love teaching and sharing skills, but I was placed on the spot in the afternoon and asked to show how I would make a new topiary from an existing shrub. So below is a speeded-up video of me creating a cloud-pruned topiary from an old boxwood tree. I particularly love the ending when the class get involved….! See the video here. One hour was all it took, and though it needed a little tidying-up, it was made by …
Sep27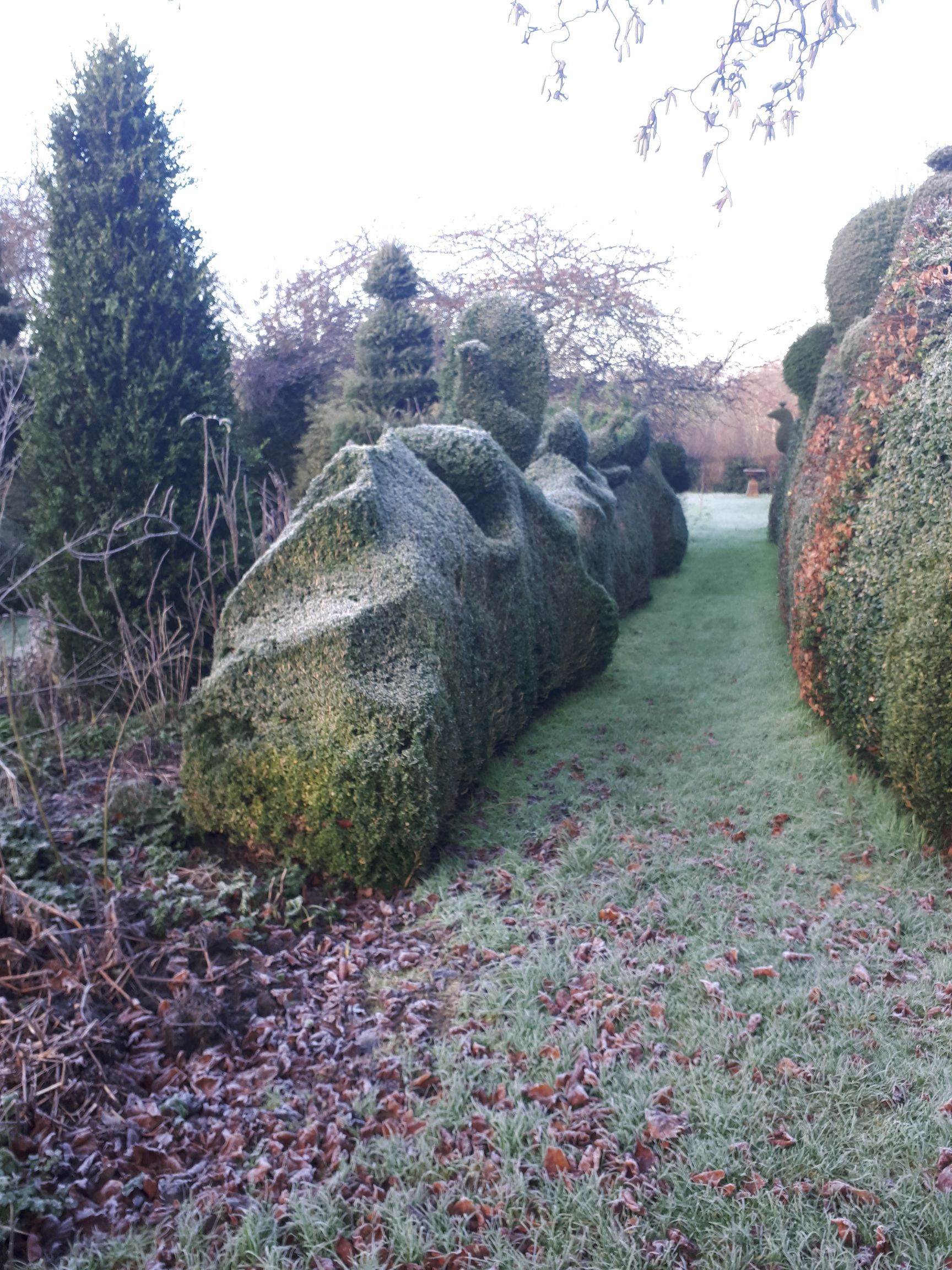 Charlotte Molesworth, my topiary mentor, and I are running our popular topiary workshop again in 2022. You can email me for details – or go here for information, your ticket and to find out about dates. Book A Spot On A Topiary Workshop, September 2022