THE MODERN MINT BLOG
What are the gardening jobs in June? Here are a few of the things we are looking at around the garden… (and if that's not enough, then for a simple, easy to digest guide, see Alan's book below…)
Cut back any perennials that are going over (poppies for example) and thin the stems of plants like euphorbia (please wear gloves when you do this, as when the stems break they exude a milky sap that can irritate your skin.)
Mow and edge the lawn every week (but think about some labour saving alternatives…)
Stake anything you have forgotten to stake.
Tie in your sweetpeas – and get ready for their brilliant display!
Plant out tender or 'exotic' plants.
Pick and eat your strawberries and raspberries. Is there any better way to watch Wimbledon?
Have you clipped your box yet?
Prune spring flowering shrubs that have now gone over. This is an important one!
Find out if your garden is bee friendly by taking the buzz test.
Be water-wise – you do not need to water your lawn (though the vegetable garden would appreciate some…)
Weed the borders, and while you're in there, take a look around you. What is working, what is not? Are there any gaps that need filling or unhappy plants that could be moved? Get to know your flowers!
Last (but not least) enjoy your garden. Sit down, open a bottle of wine and get the barbeque on. That's what it's all about!
For more information about what to do in the garden now, try these books – they'll get you inspired…
The Complete How To Be A Gardener
The Gardener's Pocket Bible: Every gardening rule of thumb at your fingertips (Pocket Bibles)
RHS Gardening Month by Month
… and for something a little more fun, we offer you this lovely book about a guy who began gardening in London during the day, while spending his evenings writing comedy.
Best moment?
Discovering why it is hard to find a good gardener, because they all die out over winter when there is no work to sustain them! It's a lovely read, enjoy it!
June 25 th 2014
Feb22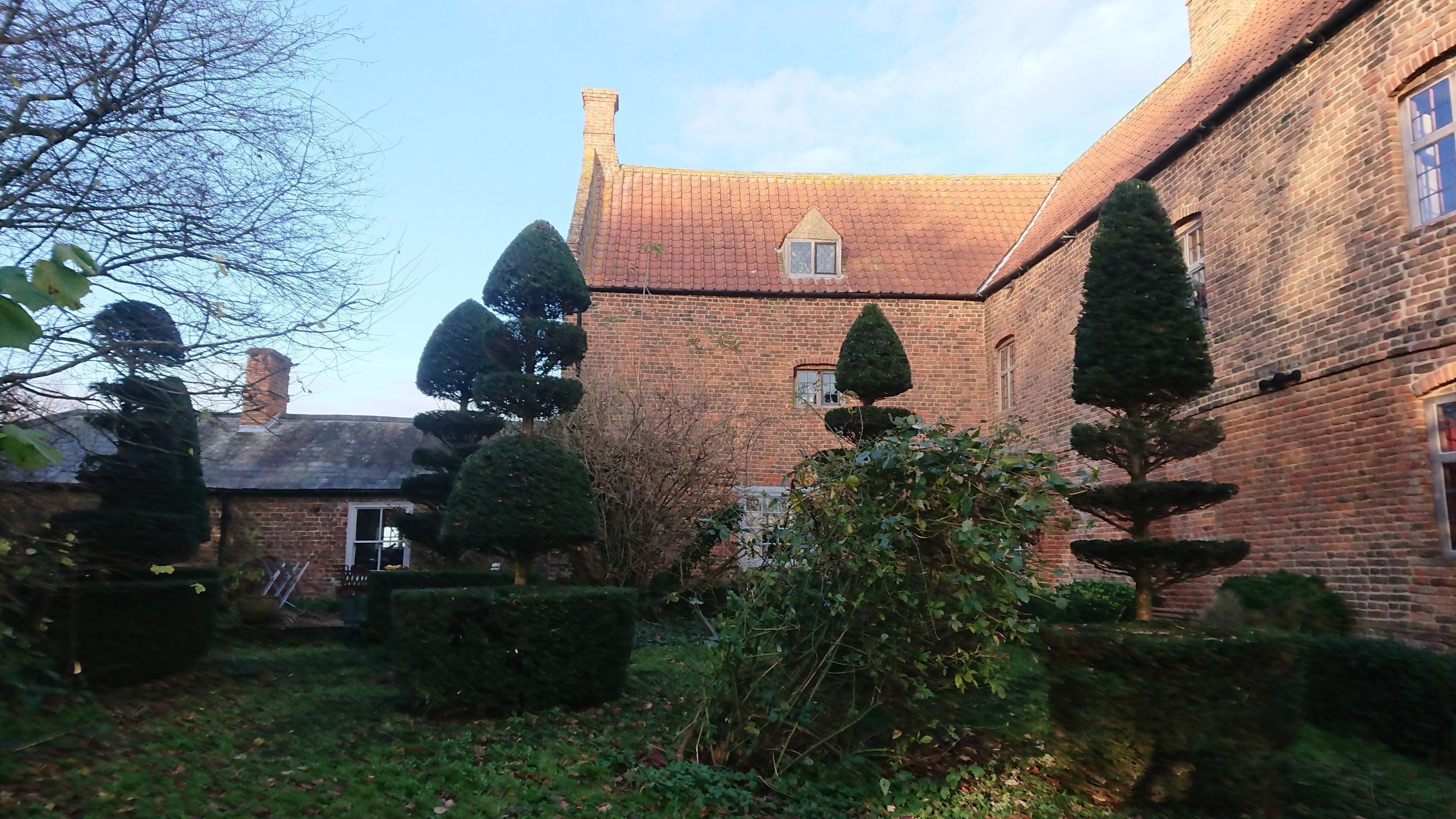 Guanock House needs a trainee topiary artist! Some of you may know it as the first home and garden of designer Arne Maynard, but is now owned and maintained by Michael Coleman and his wife Michelle. They offer meditation workshops and retreats there and it is as beautiful a house and garden as you could wish to visit. They called me in last Autumn to help shape up some of the topiary as it was all getting out of hand, but what it really needs is someone with a steady hand and lots of patience to take over the clipping …
Feb09
Here are some photos of work I have been doing at the garden of Charlotte Molesworth in Kent. Snow and ice brings out the depth of the different planes and angles carved into the boxwood. A garden has to look beautiful in winter – and topiary (green architecture)  helps do that! For more topiary pictures, click here.
Feb01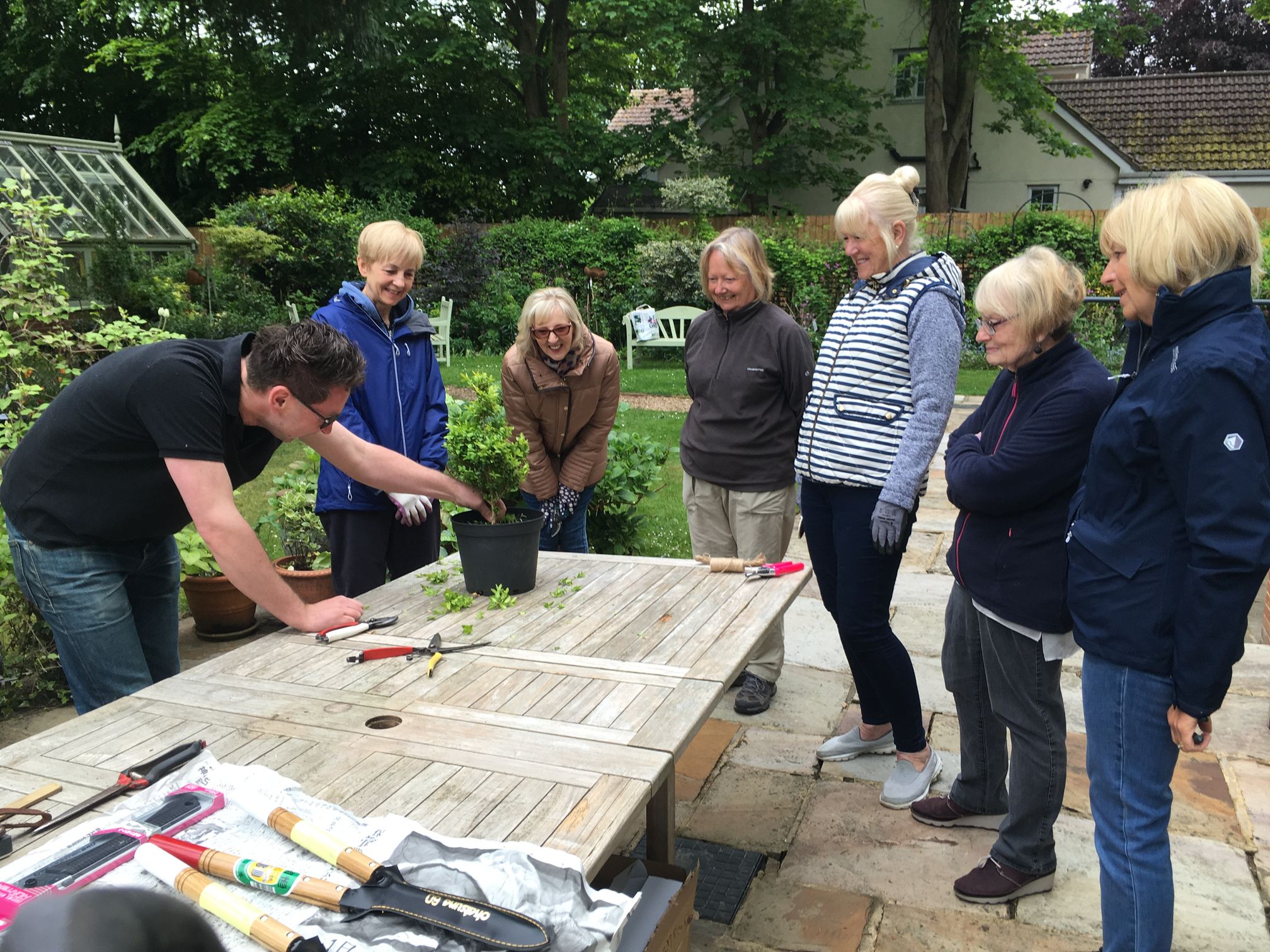 I am an experienced teacher of topiary and pruning, running workshops in the topiary garden of Charlotte Molesworth in Kent, as well as for The English Gardening School and The European Boxwood And Topiary Society. So if you are a keen gardener, a garden club, a group of friends who want to know more or even an absolute beginner who has been bitten by the gardening bug, then do contact me about what you might like to learn. What a laugh we are having in this workshop session I ran for a group of friends in Essex… Many people employ …