THE MODERN MINT BLOG
This weekend, August 22nd-24th, you can visit Flowers at Oxford. It is hosted by Lady Margaret Hall, a beautiful Oxford college, and is being used as a showcase for the best in floral design.
We heard about it through Flowers from the Farm, who will be there promoting British flowers over the weekend. We support Flowers from the Farm because they "want to see a new generation of florists inspired by seasonal, local, sustainable British flowers."
As a former flower grower ourselves, we recognise how great it is to get fresh blooms from your own garden. We try very hard to get our clients to grow their own flowers too.
Don't be shy, head over to Flowers at Oxford this weekend, watch the demonstrations, see (and smell) the difference between British grown cut flowers and those imported from the equator, fall in love with the vast range of colours and textures seasonal flowers can provide – and spread the word!
Where better to spend a weekend smelling the flowers than Oxford?
(For more on growing your own flowers, try Sarah Raven – there is lots of information here!)
August 19 th 2014
Sep21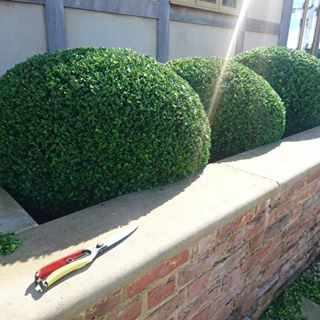 I was asked by the European Boxwood & Topiary Society to help out with answering a common question – How to sharpen your shears? So we spent a fun day making a video, that hopefully will help you make sure you have sharp, shiny blades to do your topiary pruning with. And you can find here more examples of the topiary I make with my sharp blades.
Aug16
You can get a ticket for this new talk I'm giving at the European Boxwood And Topiary Society here – TALK TICKETS It is on the 25th August at 6pm. It should be great fun and I'm very excited to be sharing some recent thoughts about topiary with people – and how it might work in a modern garden.
Jun14
If you have a subscription, you can check out an article about bespoke ideas for your garden in the Telegraph. There are some great crafts people there, so check it out. Click Here To See The Article About my Topiary Work In The Telegraph