THE MODERN MINT BLOG
A few years back now we wrote about Fernando Caruncho, the Madrid based garden designer known for his minimalist, evergreen planting designs and spaces shaped by geometry.
His work has always fascinated us, the sense of calm and unity that pervades the gardens he creates. He speaks poetically about his work too, at times almost in riddles, philosophising about gardens as landscapes of paradise, that purvey atmospheres of stillness that seem at odds with our contemporary 'constantly on' lifestyle.
Caruncho's Contrast Between Words and Garden Style
It is a strange contrast in his work – expressing himself through plants and garden design, Fernando Caruncho seems able to ground everything, give it strength, solidity and presence.
Yet in words he can seem airy and ethereal.
(Just read the introductory interview he gives in his book on Garden Design. This may partly be due to him working in a second language, English… but then again, perhaps that adds to the allure?)
Fernando Caruncho's words though, should be pondered over. Like in this quote about the function of the pavilion in his own garden:
"When you go in the stairs and you are in the high part of the garden, you arrive in this kiosk… you discover the character and the landscape and you are out of you. It is like a little pilgrimage.

You don't need to read a book to understand a garden. You are inside the garden. You are in the middle, and in this moment you begin to be transformed."
We love that idea of creating a space in the garden that takes you out of yourself, that gives you that 'little pilgrimage' that provokes a new you.
You rarely get a transformative experience in the typical British garden, which primarily consists of a patio, a fence all around the boundary, flower borders against this edge and then a lawn plonked in the very middle of the space.
It lacks surprise, fails to make you 'arrive' anywhere and certainly doesn't alter the person you are.
Could Fernando Caruncho inspire you to make a garden like this?
He speaks beautifully about other important elements of the garden too.
How Fernando Caruncho Thinks About Light In The Garden
"To me the central idea is to control the light. This is the idea of the box, to show the contrast between the shadow and the light, empty and full space, mineral and vegetable… this reflection of the light produces a vibration of the light."
We are talking about the available sunshine, not the garden lights and cables you may have installed. The light is so strong in Spain (which is why the use of evergreen plants like escallonia, bay and ivy in his gardens appear to be so beautiful, because the dark green helps to 'cool' the viewer) while it is softer, more diffuse here in the UK.
We cannot expect to capture such brightness, but we can look to create shadows. Some of the best topiary is so special because it plays with this idea of light and shade….
Fernando Caruncho Also Gives Advice On Planting Your Garden:
"I like it to be simple, natural, like nature it doesn't have many things. The majority of our gardens have 3 or 4 species of trees. 3 or 4 species of shrubs. 2 or 3 species of climbers. And the flower is just to give colour and smell, the splendour of one moment of the garden."
Over the years we have gone back to his work again and again, using it as inspiration in our garden practises and allowing the vaguer nature of phrases he uses in his interviews to percolate through our minds – he can be difficult to comprehend on first reading, as what he says is almost koan like, so it is good to take time with his words and not expect to get too much straight away.
His own garden has altered a lot recently too.
The Temporal Cosmic Garden of Fernando Caruncho
His own garden has been decimated by a virus that swept through his plantings of many years.
Fernando realised:
"Gardens, like people, have a cycle: they are born, grow, mature and die. For the first time in my life, I understood that. I needed to accept the new conditions but return to the original ideas.

I began to understand it more deeply, as when you love someone who has been in your life for a long time."
No longer the vast green swathes of boxwood and escallonia, the new, open space in his garden has been taken up by the purity of white cosmos…
What did Fernando Caruncho learn from this experience in his own garden?
"It is possible to have a garden that lasts forever but is also ephemeral. Rebirth is the miracle of gardens and that is something that will be with me for the rest of my life."
The new lease of life provide by the renewal of his own land is something to be savoured – perhaps now he creates plantings that are a much closer match to the way he thinks and speaks about gardens? Light, sophisticated and yet deeply inspiring too.
Read more here about the work of Fernando Caruncho, including the minimalist palette of plants he chooses to use.
Or you can check out the work space he made for himself and his garden design company – Estudio Caruncho.
March 19 th 2017
Mar28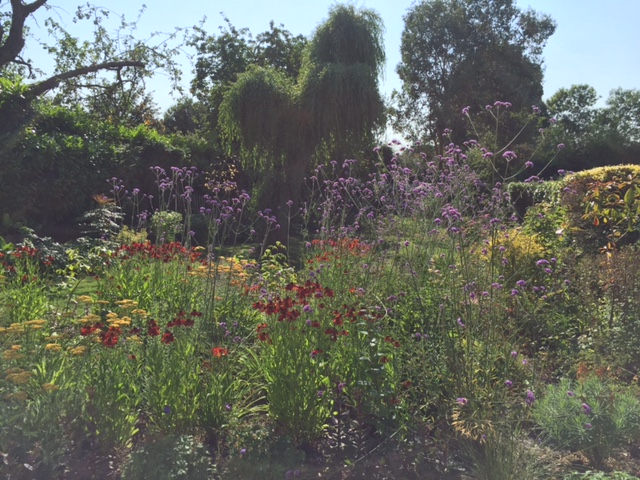 Can your garden help reverse the effects of climate change? It most certainly can! Your garden can be an effective carbon sink, by using your plants and your soil to capture and store CO2. This Chelsea Fringe 2017 project, run by fringe regulars Modern Mint, will show you the simple yet positive actions you can take to make your garden a carbon capturing eco-system. Share With Us How You Capture Carbon In Your Garden Please share this project with all of your gardening friends, or show us how you already capture carbon in your garden by using the …
Mar27
Phillyrea is a shrub we came across a fair few years ago, in our search for clippable topiary shrubs. It seems to have been out of favour a long time – this piece about the plant by Mary Keen is from 2004, encouraging gardeners to try it out. But those 13 years pale in comparison to the last time it was popular – in the 17th and 18th centuries! This Blog About Phillyrea Teaches You… Why it might be unpopular now Shows photos of it as beautiful topiary, as well as a mature plant Suggests the tool you need to …
Mar26
Darren of Modern Mint is on the RHS Speakers List! If you need a speaker for your garden club, WI group, beekeeping society or fair please do get in touch with us here at Modern Mint. Talks can be provided on a variety of subjects and lengths to suit your event. For more information, see this blog post full of information and testimonials from previous talks… … or visit the RHS Speakers List website.