THE MODERN MINT BLOG
That's right, late spring is the time for clipping and pruning those box hedges, balls, cones and other weird and wonderful shapes you have in your garden. So here is a small selection of photos from our work this year…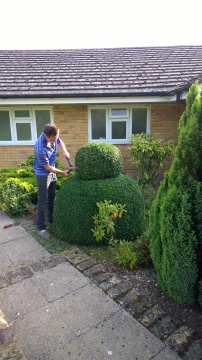 … we have written before about topiary, so please do delve deeper into our blog to discover more about what the heck it is we are trying to achieve when we get out the shears and secateurs, and why creating a piece of 'live sculpture' in your garden may well be the best thing you could do this year…
Jake Hobson and Creative Pruning
Talking of secateurs, the sharpest, shiniest and best value on the market are these ones from Okatsune…
And for those of you living in Essex and London, who perhaps have an old hedge or plant that needs renovating, you can always ask us about our Organic Topiary service.
It could be the best and cheapest way to deal with that overgrown established shrub in your garden!
Happy clippings folks!
July 14 th 2015
Apr23
Here is a note form our Facebook page about the wonderful evergreen shrub Escallonia. Not only is it immensely easy to clip into brilliant shapes (oh, how we love topiary….) but it seems to be a winner when it comes to the bees. Has anyone done some research on this? For another shrub that is reportedly loved by the bees, move on from this Escallonia post and focus on Phillyrea.
Apr19
Just occasionally we come across a writer who shares something with us we really enjoy, that really hits the right button for that moment. This time, that writer is poet Shane Koyczan. As part of his newsletter, he sends out a new poem. Last month the poem was the one below, entitled 'Whatever Mountain'. The lines 'you will have won nothing by crossing this finish line / It exists / only to task you with discovering / how much deeper / you can go' from the middle section felt extraordinary to read. It is a positive, powerful poem about moving forward. Sometimes, when we …
Apr18
We received this photo from a follower on Twitter last week, showing off the organic bulbs he bought from us and planted in his garden… @ModernMintLtd here you go. pic.twitter.com/86Je5cY8dO — Mike Conrad-Pickles (@Mikeandhisdog) April 7, 2017 Amazing! Those will be some happy bees! Read this to find out more about the bee friendly bulbs you can plant in your garden – Organic Bulbs.